From transport to freewheel
The globally unique for the latest animal welfare law directives built dog charm of GLA-WEL was built according to our specifications.
There is space for 36 dogs in spacious double boxes with sliding doors for space freedom, ventilation in all boxes and additional ceiling ventilation which is separately switchable. There is also a large ramp to get on and off. Plenty of room and comfort for all the equipment, as well as a lounge with a bed for long days of training intended for the winter. When the fall of training this space is intended to convey the training device (Quad). The trailer is equipped with underfloor lighting and facilitates the out let of the dogs in the dark. It's a great comfortable sleep for our top athletes on four legs.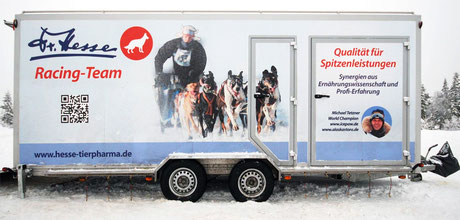 The dogs enjoy it romp in our spacious outlet to laze around and just letting your mind wander. After all, is with us from May to September summer break, where you can not imagine a more beautiful place.
Mostly in the end of September, when the temperatures are correct, the Ride starts. It is very important for the dogs, prepare tendons and joints for the coming season, as the condition is strengthened. The dogs can look forward to the Ride and like to make it out of free will. The dogs love to have a job and noted that now the lounging is over and the season is around the corner. The actual Zugtraining begins as soon as it goes into the single-digit temperatures. If possible, the dogs have snow from mid-December under the paws.